Schedule
All times Eastern Daylight Time
(UTC -4)
June 15th, 12:00 p.m., Estadio Nacional, Brasilia
Switzerland
vs.
Ecuador
June 15th, 3:00 p.m., Estadio Beira-Rio, Porto Alegre
France
vs.
Honduras
June 20th, 3:00 p.m., Arena Fonte Nova, Salvador
Switzerland
vs.
France
June 20th, 6:00 p.m., Arena da Baixada, Curitiba
Honduras
vs.
Ecuador
June 25th, 4:00 p.m., Arena Amazonia, Manaus
Honduras
vs.
Switzerland
June 25th, 4:00 p.m., Maracana - Estadio Jornalista Mario Filho
Ecuador
vs.
France
Teams
Ecuador

Bullets
World Ranking: 26th
World Cup Appearances: 3 (Last in 2006)
Best World Cup Finish: Round of 16 (2006)
Finished 4th, 7 points behind Argentina in South America to qualify.
7-5-4, 20 Goals For and 16 Goals Against in qualifying
Leading goalscorer in Qualifying: Felipe Caicedo (7)
2-5-6, 14 Goals For and 19 Goals Against in last 12 months
Manager: Reinaldo Rueda (COL). Rueda managed native Colombia in 2006 World Cup qualifying, falling just short of qualifying. Rueda led Honduras to the 2010 World Cup, and took over management of Ecuador following the tournament.
Captain: Antonio Valencia. Midfielder, Manchester United (ENG)
Odds to Win World Cup (via Bodog): 150/1
Roster
Goalkeepers
: Maximo Banguera (
#1, Barcelona),
Adrian Bone (
#12, El Nacional)
, Alexander Dominguez (
#22, LDU Quito)
Defenders
: Gabriel Achilier (
#21, Emelec
), Walter Ayovi (
#10, Pachuca, MEX
), Oscar Bagui (
#18, Emelec
), Frickson Erazo (
#3, Flamengo, BRA
), Jorge Guagua (
#2, Emelec
), Juan Carlos Paredes (
#4, Barcelona
)
Midfielders
: Michael Arroyo (
#15, Atlante, MEX
), Segundo Castillo (
#14, Al-Hilal, KSA
), Carlos Gruezo (
#23, Stuttgart, GER
), Renato Ibarra (
#5, Vitesse, NED
), Fidel Martinez (
#20, Tijuana, MEX
), Edison Mendez (
#8, Santa Fe
), Jefferson Montero (
#7, Morelia, MEX
), Christian Noboa (
Dynamo Moscow, RUS
), Joao Rojas (
#9, Cruz Azul, MEX
), Luis Saritama (
#19, Barcelona
), Antonio Valencia (
#16, Manchester United, ENG
)
Forwards
:
Jaime Ayovi (
#17, Tijuana, MEX
), Felipe Caicedo (
#11, Al-Jazira, UAE
), Enner Valencia (
#13, Pachuca, MEX
)
Possible Starting XI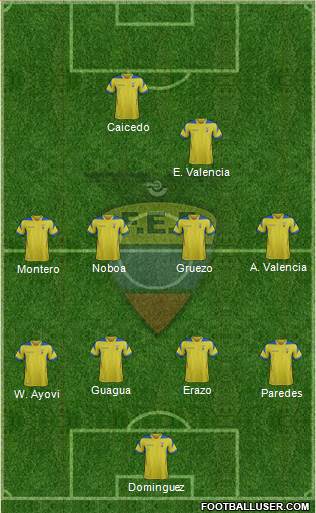 Offence
The least impressive offence of all the South American teams in the tournament. The other squads have organization and balance to their attacks, whereas Ecuador tend to resemble chickens with their heads cut off at times.
Ecuador's best shot at offence comes off runs on the sides of the field, primarily from the right with Antonio Valencia. The central midfielders are suffering due to injuries and are mainly defensively oriented in their style of play so Ecuador needs it's wingers to open up the field and give them space to attack. Felipe Caicedo and Enner Valencia lead the way up front. Caicedo has size and was Ecuador's top scorer this past season, but is primarily a one-touch finisher only and has been playing in the lowly UAE league this past season. Valencia on the other hand has had a phenomenal season and will likely be Ecuador's top goal-scoring threat.
Defence
Just as disorganized as their offensive front, Ecuador's defence alternates between flashes of brilliance and times when you can't tell what they're doing. This was blatantly evident in their pre-torunament game against Mexico. One play in particular, there were 3 defenders and a midfielder all swarming to a ball in the defensive third. They didn't get there and Mexico was left with a 4 on 2 around the Ecuador penalty area. Poor decision-making and field awareness will lead to problems for this Ecuador squad.
Perhaps the biggest concern for this Ecuador squad is that they're the only team without a consensus number one goalkeeper. Alexander Dominiguez is expected to be the number one by media, but Maximo Banguera has been the one in the net for all 3 tuneup games so far. It's the same adage as in American football, if you have 2 quarterbacks, you have no quarterback, and that's a problem Ecuador are quickly running out of time to solve.
3 Key Players
Antonio Valencia.
The captain and leader of this team, the Manchester United winger is one of the only Ecuadoran players that sees significant time for a European club. Valencia is coming off of one of his best seasons with United, and is counted on to provide width and play-making ability to an otherwise limited Ecuador offensive front. Valencia has exceptional speed and dribbling ability and should often find himself with a free look at crosses to the penalty area in the group games.
Enner Valencia.
No relation to Antonio, Enner blew up with Pachuca in the Mexican League this season, scoring an astonishing 18 goals in 22 games. Primarily a winger but on a team filled with those, Valencia will be filling an offset forward role for Ecuador. Valencia is the most complete offensive player in the Ecuador lineup. His record with Pachuca is testament to his finishing ability, but he also has a neat passing game that gets the ball to players around in open spaces and frees himself up for runs to the area to finish plays off.
Carlos Gruezo.
Slotted currently in a starting role after Segundo Castillo injured his leg in the same challenge that ended Luis Montes' World Cup for Mexico. Castillo is in the squad but doesn't look ready for action so the 19 year old Gruezo looks to be set for significant playing time in Brazil. It will be a trial by fire for Gruezo. He played just 7 games for Stuttgart this past season and only got his first cap for Ecuador in pre-tournament action. Look for Gruezo to be targeted by opponents attacks if he does find himself on the field.
Other Name to Know
Christian Benitez.
One of their most reliable players in qualifying and a prolific goalscorer both for country and club, Benitez died tragically last July, after complications from cardiac arrest. Benitez was 27 years old, and a big presence in the Ecuador front line. World Cup teams have to number their players from 1-23, so Felipe Caicedo will wear Benitez's #11 jersey. The number has been retired outside of the World Cup finals.
Overall Impression
I didn't expect to be this negative about the team when I started writing, it just worked out that way. They have some individual skill at places, but they lack cohesion in all parts of the field and don't provide the offensive threats that other Latin American teams do to counter that.
Playing in the heat on their own continent will certainly be an advantage. Ecuador can also outrun most opponents, with much of their squad playing their club soccer domestically at altitude. And it's a relatively weak group compared to others. All of that plays in to Ecuador's favour and despite my negative review, they will be a threat to advance from this group.
France
Bullets
World Ranking: 17th
World Cup Appearances: 14 (Last in 2010)
Best World Cup Finish: Champions (1998)
Finished 2nd, 3 points behind Spain in Europe Round 1:Group I. Advanced to Round 2 as one of the top runners-up. Defeated Ukraine 3-2 in Round 2:Pairing 2 to qualify.
5-2-3, 18 Goals For and 8 Goals Against in qualifying
Leading goalscorer in Qualifying: Franck Ribery (5)
7-3-3, 26 Goals For and 9 Goals Against in last 12 months
Manager: Didier Deschamps. Deschamps took over in July 2012, following the Euro championship. This is Deschamps' first national managing job. He spent the 3 prior seasons at Marseille, and managed Monaco to a UEFA Champions League final in 2004.
Captain: Hugo Lloris. Goalkeeper, Tottenham Hotspur (ENG)
Odds to Win World Cup (via Bodog): 22/1
Roster
Edited to reflect Ribery and Grenier being replaced by injury. No word if numbers will be shuffled yet.
Goalkeepers
: Mickael Landreau (
#23, Bastia
), Hugo Lloris (
#1, Tottenham Hotspur, ENG
), Stephane Ruffier (
#16, Saint-Etienne
)
Defenders
: Mathieu Debuchy (
#2, Newcastle United, ENG
), Lucas Digne (
#17, Paris Saint-Germain
), Patrice Evra (
#3, Manchester United, ENG
), Laurent Koscielny (
#21, Arsenal, ENG
), Eliaquim Mangala (
#13, FC Porto, POR
), Bacary Sagna (
#15, Arsenal, ENG
), Mamadou Sakho (
#5, Liverpool, ENG
), Raphael Varane (
#4, Real Madrid, ESP
)
Midfielders
: Yohan Cabaye (
#6, Paris Saint-Germain
), Remy Cabella (
Montpellier)
, Antoine Griezmann (
#11, Real Sociedad, ESP
), Blaise Matuidi (
#14, Paris Saint-Germain
), Rio Mavuba (
#12, Lille
), Paul Pogba (
#19, Juventus, ITA
), Morgan Schneiderlin (
Southampton, ENG),
Moussa Sissoko (
#18, Newcastle United, ENG
), Mathieu Valbuena (
#8, Marseille
)
Forwards
:
Karim Benzema (
#10, Real Madrid, ESP
), Olivier Giroud (
#9, Arsenal, ENG
), Loic Remy (
#20, Newcastle United, ENG
)
Possible Starting XI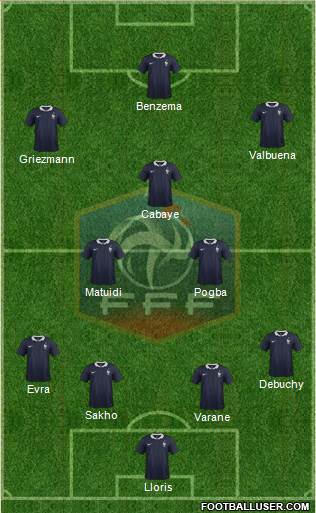 Offence
This is a revamped French squad from the one that imploded in the 2010 World Cup, and is led up front by Real Madrid striker Karim Benzema, and inexplicable exclusion from that 2010 squad. Comfortable playing up front as a lone striker, Benzema can be used as back-to-goal provider, aerial target man or as a finisher when in the penalty area. One of the things that makes Benzema successful with his club is the high-class players around him, which France has in spades.
The French offence relies heavily on its wingers to use their speed to stretch the ball upfield and then create ways to get the ball to the centre of the field for Benzema or the central midfielders. The central midfielders are always strong in possession of the ball and can find the wingers or Benzema up front in dangerous scoring positions. Also look for Evra and Debuchy to push up frequently from the wing back possessions to support the front group and create opportunities for crosses. Franck Ribery was officially ruled out of the world cup today, replaced by Montpellier's Remy Cabella. Antoine Griezmann has been impressive in pre-tournament play and is the likely replacement in the starting lineup at left wing.
Defence
France boasts possibly the youngest and most inexperienced central defence pairing in the tournament. Expected to be anchored by Raphael Varane and Mamadou Sakho, the two combine for less then 25 international caps, and are just 21 and 24 respectively. They are joined on the wings by Mathieu Debuchy and former captain Patrice Evra. Debuchy and Evra bring more experience to the table but are both offensive-minded fullbacks and are susceptible to mental lapses on the defensive end.
France have found their central defensive pairing it seems for at least the next 6-8 years if all goes well. There's a question of whether or not this stage may be too much, too soon for them though. They'll be relying on defensive midfielder Blaise Matuidi for support in countering their opponent's attacks. France love to push their wings forward so more then anything, this defence will depend on Varane and Sakho's abilities in the centre of the field to defend their goal by themselves at times.
3 Key Players
Mathieu Valbuena.
Brings many of the same qualities to the right wing that Ribery would have brought to the left wing. Ribery's absence will shift attention of the French attack from the left side of the field to the right and make Valbuena one of the key playmakers in this squad. Speed to spare and phenomenal in ball control, Valbuena has to step up and fill the role Ribery would have as the playmaker in this French attack.
Paul Pogba.
Has blown on to the world stage in the past 2 years with his performances for Juventus and having led France to a U-20 World Cup title last year. Pogba has cemented himself as both the future of the French team as well as securing a starting position for Brazil. France's 3 midfield set is similar to England in responsibilities. With Cabaye in offensive support and Matuidi hanging back, Pogba's role is to provide support from both and fly up and down the field for both roles. One of the most complete players in the squad, Pogba is poised for a breakout tournament amongst casual fans and will cement an impressive French midfield that was so poor in 2010.
Patrice Evra.
Stripped of his captaincy since the protest incident in the 2010 World Cup, Evra has worked his way back in to a French squad at age 33, despite calls by former players for Evra to be banned from the team. Doesn't wear the armband anymore, but still provides crucial leadership for the rest of a very inexperienced defence. Can be a game-changer in the offensive zone when he pinches forward, but has struggled defensively this past season with Manchester United. If he can be defensively responsible and lead the back end, France has the potential to go a long way in this group.
Other Name to Know
Olivier Giroud.
Not expected to start over Benzema, Giroud is one of those players who has shown a penchant for being in the right place at the right time when a goal is needed, either for France or for Arsenal. Most notably scored on a header at the whistle to tie Spain in qualifying in Madrid in 2012. Giroud should see some time off the bench, and is a player to keep an eye to see if he can work more magic if France need a late goal.
Overall Impression
Night and day it seems from 2010 when you could see France were headed for a fall. A solid infusion of youth with players like Pogba and the central defenders to go with the talented veterans this team possesses. A very friendly draw will also help France who were the closest any team going to Brazil came to not being here, having trailed Ukraine 2-0 entering the last leg of their qualifying playoff.
Losing Ribery hurts but France possess a very organized attack and have players capable of filling his role effectively so on the whole, shouldn't impact their chances of advancing overly much.
Honduras
Bullets
World Ranking: 33rd
World Cup Appearances: 3 (Last in 2010)
Best World Cup Finish: Group Stage (1982, 2010)
Received byes for North America Rounds 1 and 2. Finished 1st in Round 3:Group C, ahead of Panama in goal differential to advance to Round 4. Finished 3rd in Round 4, 7 points behind USA to qualify.
7-4-5, 25 Goals For and 15 Goals Against in qualifying
Leading goalscorer in Qualifying: Jerry Bengtson (9)
7-8-3, 20 Goals For and 28 Goals Against in last 12 months
Manager: Luis Fernando Suarez (COL). Suarez took over as Honduras manager in 2011. He previously managed Ecuador to a Round of 16 berth in the 2006 World Cup.
Captain: Noel Valladares. Goalkeeper, Olimpia
Odds to Win World Cup (via Bodog): 1500/1
Roster
Goalkeepers
: Donis Escober (
#22, Olimpia
), Luis Lopez (
#1, Real Espana
), Noel Valladares (
#18, Olimpia
)
Defenders
: Brayan Beckeles (
#23, Olimpia
), Victor Bernardez (#5,
San Jose Earthquakes, USA
), Osman Chavez (
#2, Qingdao Jonoon, CHN
), Maynor Figueroa (
#3, Hull City, ENG
), Juan Carlos Garcia (
#6, Wigan Athletic, ENG
), Emilio Izaguirre (
#7, Celtic, SCO
), Juan Pablo Montes (
#4, Motagua
)
Midfielders
: Marvin Chavez (
#17, Chivas USA, USA
), Jorge Claros (
#20, Motagua
), Edder Delgado (
#12, Real Espana)
, Roger Espinoza (
#15, Wigan Athletic, ENG
), Oscar Boniek Garcia (
#14, Houston Dynamo, USA
), Luis Garrido (
#19, Olimpia
), Mario Martinez (
#10, Real Espana
), Andy Najar (
#21, Anderlecht, BEL
), Wilson Palacios (
#8, Stoke City, ENG
)
Forwards
:
Jerry Bengtson (
#11, New England Revolution, USA
), Carlo Costly (
#13, Real Espana
), Rony Martinez (
#16, Real Sociedad
), Jerry Palacios (
#9, Alajuelense, CRC
)
Possible Starting XI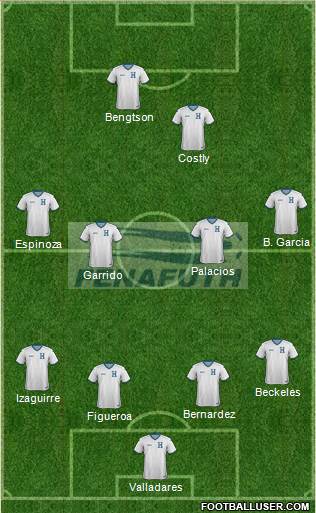 Offence
A 4-4-2 formation with a pair of holding midfielders, Honduras will rely heavily on their wingers and 2-striker set up front for all of their offence. Up front, Carlo Costly and Jerry Bengtson form a very dangerous attacking duo. 6'3" and 6'2" respectively, both have speed and strength in possession of the ball, and combined for a whopping 16 goals in qualifying. Bengtson is the target man with Costly in a centre forward role behind him. Both players are capable of making plays for the other though and can find the net with feet or head in the penalty area.
The other aspect of the Honduran offence is their speed on the wings and ability to make plays and get the ball up to Costly and Bengtson. Look for left back Emilio Izaguirre to provide support in this area as well. The former Player of the Year in the Scottish Premier League loves to fly up and down the left wing and his speed and passing ability provide some of the best play-making for this Honduras squad. Left winger Roger Espinoza typically plays left back, so it's not unusual for he and Izaguirre to interchange positions as necessary.
Defence
Similar to fellow Central American nation Costa Rica, Honduras will elect to leave 6 players back most of the time to make up for the individual talent and speed they are lacking compared to the rest of the world. The keys to this defence lie with the 3 most experienced players in the squad. Noel Valladares starts in goal. Captain of the team, the 37 year old goalkeeper has over 120 caps to his name. Valladares is one of the smallest goalkeepers heading to Brazil at 5'10", but makes up for his lack of size with great positional awareness and reflexes.
The centre of the field is anchored by 2 of the few European-based club players on this Honduras squad. Having been left on the bench for much of his career, Wilson Palacios saw extended game action for Stoke City this year for the first time. Palacios is a reliable defensive midfielder who will sit back and harass the opponents attacking midfielders with the ball. The heart of the back line is Maynor Figueroa, another Premier League player who saw extensive time for Hull City this past season. The experience of these players will be relied on for Honduras to maintain order in the back and spring counter-attacks the few times Honduras will get chances to.
3 Key Players
Emilio Izaguirre.
The best player on this Honduras team, he'll start at left back but could end up at left wing or up with the strikers if he so chose. One of the few defenders with speed for Honduras, Izaguirre loves to take the ball up the wings himself to act as a play-making midfielder. As mentioned above, Izaguirre will have cover if he chooses to go exploring, so look for him to play as much of a midfield role as he will at left back, as Honduras try to get the ball to Costly or Bengtson in scoring positions.
Wilson Palacios.
The Honduran central midfield and defence have plenty of experience, but not nearly the speed of some of the attackers they'll face in this group so positional play and team defence will be critical to their success. Palacios is the most experienced of the midfielders and will sit between the opponents and his defensive line to organize everything. Not the most physically talented himself, Palacios' leadership and field awareness are critical if Honduras look to have success in Brazil.
Carlo Costly.
Bengtson is the pure goalscorer but it's Costly that drives the offensive attack up front. Goes at full speed for the whole match and is gifted as both a deliverer of the ball (mainly to Bengtso) or as a forward that can create his own opportunities. Gets a bit more space then Bengtson does by playing behind him and if opponents don't close him down quickly, Costly can fire off a rocket at the goal which will trouble any opposing goalkeeper.
Other Name to Know
Andy Najar.
Young, with excellent speed and agility, Najar may find a role as a substitute forward off the bench. Costly and Bengtson form an excellent duo but are similar players with their size and abilities. Najar's agility on and off the ball allow him to find open spaces all over the field and add a different element to the Honduran attack that may be valuable for Honduras later in games.
Overall Impression
Hasn't won a World Cup finals game in 6 attempts and failed to even register a goal in 2010. It'd be a shock if they didn't score in Brazil as Bengtson and Costly are a world-class strike pairing but any thoughts of advancement should be put on hold. Not nearly enough playmaking ability in the midfield to be considered a serious threat to advance and while they'll put a bunch of guys behind the ball defensively, they don't move particularly well individually and will struggle with the speed of France and Ecuador in particular. Best chance at a result may be against Switzerland, who don't have the dynamic offensive players that will create havoc amongst the Honduran back line.
Switzerland
Bullets
World Ranking: 6th
World Cup Appearances: 10 (Last in 2010)
Best World Cup Finish: Quarterfinals (1934, 1938, 1950)
Finished 1st in Europe Round 1:Group E, 7 points ahead of Iceland to qualify.
7-0-3, 17 Goals For and 6 Goals Against in qualifying
Leading goalscorer in Qualifying: Fabian Schar (3)
8-1-2, 18 Goals For and 9 Goals Against in last 12 months
Manager: Ottmar Hitzfeld (GER). Hitzfeld took over Switzerland in the middle of 2008. Hitzfeld previously managed Borussia Dortmund and Bayern Munich, leading both teams to Champions League titles in '97 and '01 respectively.
Captain: Gokhan Inler. Midfielder, Napoli (ITA)
Odds to Win World Cup (via Bodog): 125/1
Roster
Goalkeepers
: Diego Benaglio (
#1, Wolfsburg, GER
), Roman Burki (
#21, Grasshopper
), Yann Sommer (
#12, FC Basel
)
Defenders
: Steve von Bergen (
#40, BSC Young Boys
), Johan Djourou (
#20, Hamburger SV, GER
), Michael Lang (#6,
Grasshopper
), Stephan Lichtsteiner (
#2, Juventus, ITA
), Ricardo Rodriguez (
#13, Wolfsburg, GER
), Fabian Schar (
#22, FC Basel
), Philippe Senderos (
#4, Valencia, ESP
), Reto Ziegler (
#3, Sassuolo, ITA
)
Midfielders
: Tranquillo Barnetta (
#7, Eintracht Frankfurt, GER
), Valon Behrami (
#11, Napoli, ITA
), Blerim Dzemaili (
#15, Napoli, ITA
), Gelson Fernandes (
#16, SC Freiburg, GER
), Gokhan Inler (
#8, Napoli, ITA
), Xherdan Shaqiri (
#23, Bayern Munich, GER
), Valentin Stocker (
#14, FC Basel
), Granit Xhaka (
#10, Borussia Monchengladbach, GER
)
Forwards
:
Josip Drmic (
#19, FC Nurnberg, GER
), Mario Gavranovic (
#17, FC Zurich
), Admir Mehmedi (
#18, SC Freiburg, GER
), Haris Seferovic (
#9, Real Sociedad, ESP
)
Possible Starting XI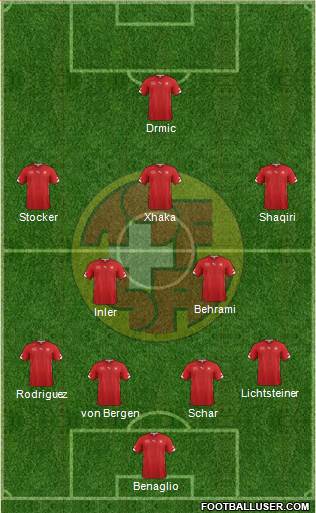 Offence
Switzerland has been on a tear the past few years, rising to 6th in the FIFA World Rankings but it isn't their offensive output that has carried them to this point. Switzerland has been struggling to find consistent quality scoring outputs from players ever since former captain Alex Frei retired in 2011. Scored just 17 goals in 10 games in a weak qualifying group and were led in goals by a central defender. Josip Drmic has 3 goals in 3 games for Switzerland this calendar year, and is expected to have the first kick at the can (goal?) for Switzerland in the striker role.
The Swiss deploy a 4-2-3-1 style and rely on their wingers to attack the sides of the pitch and free up space in the middle of the field for Switzerland to operate offensively. 21 year old Granit Xhaka will patrol the centre of the field in attack and is a phenomenal playmaker for the Swiss side. Without a main target man in the squad, Switzerland rely heavily on Xhaka's ball control and vision to find open players around him and create scoring opportunities. Not a goalscoring threat himself, but Xhaka will find himself in the centre of most of Switzerland's offensive chances as they work the ball through the centre of the field.
Defence
Nothing fancy on this end of the field either, Switzerland rely on strong team defensive play for their success at the other end of the field. Diego Benaglio leads the defence in goal and is one of the more vocal goalkeepers in the world, who you'll see constantly barking orders to his defence to ensure they are positioned correctly. The starting defensive line matches a pair of veterans with 2 highly regarded young players. Lichtsteiner on the right side and von Bergen in the centre are both over 30 and have been fixtures in this defence for years, with over 100 caps between them. 29-year old Philippe Senderos may also see time and adds another 50+ caps to the equation.
They are joined by centre-back Fabian Schar who burst in to the squad in September 2013, and was the most unexpected source of goals for the Swiss side, scoring 3 times in 2 games to help them clinch qualification in their group. Joining this group on the left side will be breakout star in Europe Ricardo Rodriguez, who ESPN called one of the top 5 players in Europe this past season. A large left back at almost six feet tall, Rodriguez flies all up and down the field but is still defensively responsible, even if it requires sprinting back down the pitch to get back in position. Supported by Inler and Behrami in the central midfield, this is a unit largely full of stars but that work so well together as a team that it creates plenty of problems for opposing attackers to find ways at goal.
3 Key Players
Ricardo Rodriguez.
Been a fixture in the squad since he was 18 years old, and has over 20 caps despite still only being 21 years old. Despite his age, has plenty of experience, having played almost 80 games the past 2 seasons at Wolfsburg. In a team that lacks offensive spark, Rodriguez will come frorward frequently to try and find a way to make plays happen, either through creating space or by taking an attempt on goal himself if he has to. Quickly becoming one of the few full backs capable of being a game-changer on both ends of the field, Switzerland will rely heavily on him to do a bit of everything this tournament.
Josip Drmic.
Not cemented in the starting lineup but it sounds as if Drmic will be the guy up front. Switzerland are desperate for just one player they can rely on as a go-to guy offensively. The 21 year old doesn't have the experience that the others do but he has shown this year that he has a nose for goal. Switzerland will need him to continue that nose for goal if they want to make a run in this tournament.
Xherdan Shaqiri.
Haven't mentioned his name but if there is a goal-scoring threat that will come from the midfield, it is likely to be Shaqiri. One of the fastest players on the squad, Shaqiri will have to use his speed to stretch defences along the wings. Switzerland don't have a ton of speed in the lineup so Shaqiri will have to do this to give players like Xhaka more room to operate. Is capable of cutting to open spaces in the penalty area off the wing and can find goals off of those runs, with 15 for Bayern Munich in the past 2 seasons.
Other Name to Know
ANY FORWARD ON THE BENCH.
Specifically they are Admir Mehmedi, Haris Seferovic and Mario Gavranovic. All young (no forward on Switzerland is 25 or older), Mehmedi brings experience, Seferovic an aerial threat and Gavranovic speed to the table but no one has stood out as an answer for goals. Would not be surprised if Ottmar Hitzfeld tries all of them at some point in the group stage in order to find something that fits.
Overall Impression
Not nearly as flashy as France but a very tough out nonetheless. Don't have the individual talent and star power that can carry teams through the World Cup but they also don't have some of the glaring mistakes that other squads can be hampered with. Switzerland got to this point with team play and everyone working as a unit, no reason to think that would hurt them now.
Absolutely have to find a way to put the ball in the net though. They've struggled with in qualifying and in pre-tournament matches. Not inept offensively, they will get chances but don't have any proven finishers which is a concern. Also not as solid defensively as a Greece for example, and can't count on needing just 1 goal for a result in a game.
FINAL THOUGHTS & PREDICTIONS
In terms of overall talent and quarterfinal potential, this is an even worse group than C was. A flawed ranking system resulted in Switzerland being seeded, and with the worst of South and North America joining the group, it isn't exactly high-profile. I have found it far more interesting then I ever expected to though.
Honduras isn't expected to contend so let's start there. They don't have the skill up front to really threaten France or Switzerland, but their match with Ecuador may be just chaotic enough for them to pick up a goal or 2. Ecuador also will struggle for goals themselves so if there is an upset in the making, that's where it may come from.
France is the most well-rounded offensively but I worry about their defence. Too many times Evra in particular will go wandering and Varane/Sakho have very limited time together. Switzerland the most well-rounded defensively, but anemic when it comes to goal-scoring. All kinds of things to consider. On the whole, I think there's plenty of potential for a surprise, but France and Switzerland's organization will be the key.
France - 7 pts
Switzerland - 6 pts
Ecuador - 2 pts
Honduras - 1 pt